This month at Careers, we're focusing on internships and work experience. As an official partner of the Gold Coast 2018 Commonwealth Games (GC2018), Griffith students will have the unique opportunity to be part of the lead-up and staging of the biggest sporting event in Australia this decade. The GC2018 Games Interns program will allow you to take part in special internships with GOLDOC, the Games organising body, and be part of the largest sporting event the Gold Coast has ever seen. For more information, please see bit.ly/GC2018interns. We are advertising a range of fantastic work experience opportunities on CareerBoard, including at Brisbane City Council through their Tertiary Work Experience program.
These work experience opportunities have been advertised by the Careers and Employment team, but what happens if you want to source your own internship? How do you know which ones are the right opportunity for you and how do you ensure you know your rights?
Here are the five things to consider when applying for unpaid work experience.
1. Can I undertake this work experience opportunity for academic credit?
Many degrees will accommodate a work placement component for academic credit – often referred to as WIL (Work Integrated Learning) – that will be organised specifically through each school. Generally speaking, these opportunities are fantastic for getting that much needed real life work experience.
If you wish to take on more than what's required, it's always a good idea to approach your WIL Coordinator/Placement Coordinator/Industry Engagement Officer and ask them if there are any employers offering additional opportunities. Your school's WIL coordinator will generally know of genuine opportunities that might not exactly meet the requirements of a structured WIL placement, but that can be undertaken for additional experience.
You can also look for unpaid work experience on CareerBoard. The employers advertising on CareerBoard have been briefed on the guidelines of unpaid work experience by the Careers and Employment team and will directly relate to a course of study. If you do take this route, you will need to complete a form which requires signatures from both your Program Director and the organisation offering the experience. This protects you as a student and ensures you are covered by insurance.
If you happen to find your own internship and wish to speak to someone about getting covered by insurance, feel free to give the Careers and Employment service a call. Additionally, you could approach your coordinator to see if it aligns with an official work placement within your degree.
Just make sure you don't overwhelm yourself.
Which brings us to our next point…
2. Will this company offer a valuable learning experience?
If you are looking for work experience, it's important to consider the outcomes you want to achieve. Do you want to gain insight into how a certain industry works? Do you want to show future employers you've worked in your chosen field? Are you exploring different career paths before deciding which employers to pursue for your graduate job?
Work experience can offer a number of benefits across all these areas. The best learning experiences are largely observational and pair you with an experienced industry professional that can show you the ropes. It's important to determine your objectives before taking on any unpaid work experience (remember, your time is valuable!) and match those objectives to potential internships.
One of the most beneficial things you can do as a student is to develop a mentoring relationship. You may find a suitable mentor through one of your work experience placements, but if not, remember that the University offers specific programs to help match you with a mentor in your industry. The Industry Mentoring Program has closed for this year but keep an eye on our social media to find out when applications open for 2016.
Determining your objectives for unpaid work experience is essential to ensure you're making the most of your opportunity. You don't want to end up in an office like this… or maybe you do.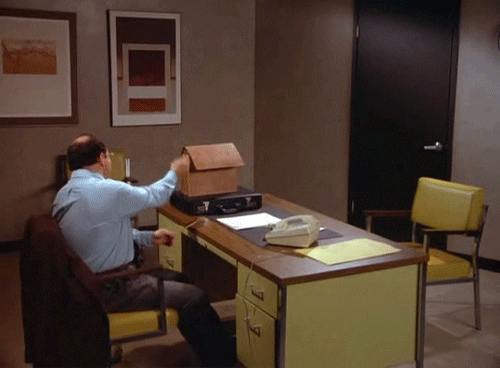 3. Have the expectations of the internship been clearly laid out?
Once you know your objectives, it's important that the expectations of the internship have been clearly laid out. If your internship is part of an official WIL placement, this becomes a lot easier. You will usually need to produce a certain amount of work, work a specified number of hours and be evaluated by the internship provider, all organised by your University WIL provider.
If sourcing your own internship, there a number of things that should be arranged up front. How many hours per week are you expected to work? Will the company be flexible around your studies should your study load increase? What is the length of the internship? What duties are you expected to carry out? Who are the people you can go to with questions? What are the company's expectations of you? Do you have a position description?
If your expectations and the company's expectations are clearly communicated before any arrangement is entered into, the placement is bound to be a much more productive and rewarding experience for both parties.
Hint: Not a key indicator of productivity 
4. Am I completing work that would normally be undertaken by an employee that is of financial benefit for the company?
It can be great to get runs on the board or get examples of work for your portfolio from your internship. However, it's important to be aware of your rights as an unpaid intern. The Fair Work Act states that for unpaid work experience to be lawful, businesses need to ensure the intern or work experience participant is not an employee. When assessing whether the parties intend to form a legally binding employment relationship some key indicators would be:
Purpose of the arrangement. Was it to provide work experience to the person or was it to get the person to do work to assist with the business outputs and productivity?
Length of time. Generally, the longer the period of placement, the more likely the person is an employee.
The person's obligations in the workplace. Although the person may do some productive activities during a placement, they are less likely to be considered an employee if there is no expectation or requirement of productivity in the workplace
The short of it is: if you are doing everything an employee would do and the company is benefitting financially from your work, then you should be paid a minimum hourly wage. For example, a journalism graduate who is writing full time for their local paper as an 'unpaid intern' with specific tasks and deadlines to assist in the production of the paper, with the productive activity taking up the majority of their time, may have been engaged as an employee and entitled to remuneration. Each situation is different of course, so it's important to be aware of your rights. For more info, please see https://www.fairwork.gov.au/about-us/policies-and-guides/fact-sheets/unpaid-work/unpaid-work.
Remember – the main benefit of a genuine work placement or internship should flow to the person doing the placement. If a business is gaining significant benefit as a result of engaging the person, this may indicate an employment relationship has been formed (Fair Work Act 2009).
There are some employers who will ask students to do what should be paid work in the name of 'work experience'.
5. Volunteering is always a good option!
If you would rather not worry about any of this, then you can always volunteer for a not for profit organisation, gain valuable experience and make a difference in your community all at the same time. Not-for-profits are consistently looking for volunteers across event management, social media, communications, IT and multimedia, graphic design, marketing, business development and many more.
These types of opportunities look just as good on your resume and show you're a community minded individual. Don't discount the level of experience a not-for-profit can give you and be sure to consider these opportunities in your search for the perfect internship! You can also consider choosing Community Internship as an elective and gain 10 credit points for volunteering in the community.
If you're not convinced, here's a quote from one of our employers
"Every week I see or hear of a volunteer who has got paid work. It's incredible on your resume," -Christine Jones, Flexible Living Volunteer Service.
Here are some places to start looking:
Volunteering QLD – http://www.volqld.org.au/web/
Go Volunteer – https://govolunteer.com.au/
Seek Volunteer – https://volunteer.com.au/
Careerboard – https://www115.secure.griffith.edu.au/careerboard/
Organisations – Endeavour, Australian Red Cross, Meals on Wheels, Guide Dogs Australia, Mission etc.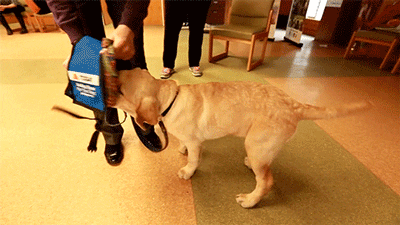 THINK OF THE PUPPIES!